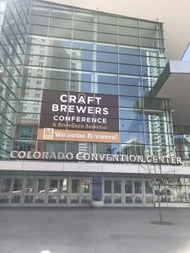 Another great Craft Brewers Conference has come to a close. Despite the mid-week blizzard, over 14,000 craft brewers traveled to Denver to attend seminars, network, and gain as much information about brewing. It was exciting to meet so many of you for the first time and to see many of you again.
Once again we sponsored the SKA Fabricating "Craft After Dark" event which took place at the Denver hotspot Cervantes Master Ballroom, and the entertainment was electric. All proceeds for the event were donated to a local charity.
At this year's conference, we featured our new empty can inspection solution, pressure and leak detection solution, fill level, and crown and skirt inspection solution. Team FILTEC enjoyed answering questions and meeting everyone and look forward to providing you excellent consultation and service in the future.
In case you missed this year's show or just want to relive the week, check out some of the pictures from the event.
Have questions? Feel free to #askFILTEC. Contact us for a consultation.